When you're in the process of purchasing a new home one of the most important steps involved is a final walk through of the property prior to closing. This is done by the prospective homebuyers a few hours to up to five days prior to closing. The purpose of the walk through is to make sure any agreed upon repairs or changes have been made, no damage has been done to the property since you last saw it, and the seller is on schedule for vacating the property.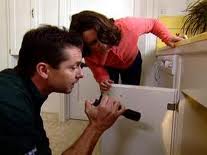 Anyone purchasing one of our Ocean Isle Beach homes for sale hopes for smooth sailing when it comes to the purchasing process. While it might seem unnecessary to do a walk through prior to closing it's critical that it be done. Here is a list of items to check during the final walk through:
• Turn on and off every light fixture
• Run water and check beneath sinks for leaks
• Test all appliances
• Check garage door openers
• Open and close all doors
• Flush toilets
• Inspect ceilings, wall and floors
• Run garbage disposal and exhaust fans
• Test heating and air conditioning
• Open and close windows
• Make sure all debris is removed from the home.
Any problems with any of these items will require additional negotiating with the seller prior to the actual closing. In some cases the closing date might need to be rescheduled until matters are resolved and sometimes a financial allowance might be made instead.