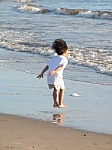 Are you looking for the good life? If you want to live in a relaxed community near the ocean take a look at our Sunset Beach Homes For Sale. Sunset Beach boasts a breathtaking shoreline and is attractive in both its landscape and its relaxed atmosphere. You can live the good life right here where you're meant to be.
Established in 1968, Sunset Beach is the southernmost of the North Carolina barrier islands and is 3 miles of the most beautiful beachfront in the state. It's an ideal location for those who enjoy pier fishing, surf fishing, swimming, surfing, or just playing in the sand and surf. The mainland portion of the town offers shopping centers, grocery stores, small boutiques, dining, golf and the Ingram Planetarium.
Living here, you're located halfway between Myrtle Beach, SC and Wilmington, NC. An ideal location as the nearby areas offer a diversity of cultural activities including many waterfront dining venues, live theatre, museums, and golf courses galore offering both casual and competitive golf. An experience unique to Sunset Beach is the walk through Mad Inlet to Bird Island. Bird Island is a 1,300-acre North Carolina Coastal Reserve completely untouched by development. Sunset Beach Homes For Sale, put you in an enchanting community many find pretty easy to call home.