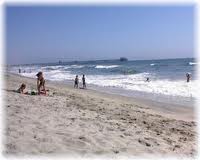 You're just going to love the Southport real estate listings we have available. As one of the fastest growing counties in the United States and top 10 in North Carolina, Brunswick County offers some of the most beautiful real estate you've ever set your eyes on.
North Carolina is home to millions and offers a lifestyle that can't easily be beat. If you're looking at Southport real estate listings with hopes of finding retirement property we have plenty for you to see. Area retirement communities consist of River Sea Plantation, Crow Creek, Sea Trail Plantation, Brunswick Plantation, Ocean Ridge Plantation, Magnolia Greens, Brunswick Forest, Sea Watch, Winding River Plantation, and others.
We have Southport real estate listings that will provide you with the best amenities possible. We can help you find your perfect home in a community you feel comfortable with so you can enjoy life as it was meant to be. There are many communities offering a wide variety of first class amenities such as outdoor swimming pools, boat docks, private beach clubs, walking and bike trails, tennis and golf, plus so much more!
Take a look at our listings and make your new life a wonderful and unforgettable experience. Give us a call and we'll show you what we have available that is exactly what you've been hoping for.