So you've purchased one of our Brunswick Forest resales and you're getting ready for the big move. While moving is right up there in the Top 5 Stressors a person can go through, there's plenty you can do to make it less likely to be. Whether you hire a mover to come and do it all or tackle the project yourself, advance preparation and staying organized is the secret to a successful and less stressful move.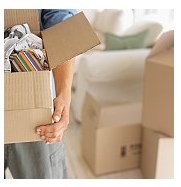 Make a list. In fact, make a few lists – utilities to call, who to give your change of address to, a list of what needs to be done by certain dates, a list of your most valuable possessions that you want to move yourself.
Box up your valuables. Use plenty of bubble wrap to protect the valuables you're packing yourself. While whatever the movers pack is insured, those items you pack yourself aren't. Tip: What you pack yourself, move yourself.
Get a jump on things. If you're moving locally you can bring carloads of boxed up small items to your new home (groceries, clothing, dishes and glassware, paper items, etc.) to get a jump on settling in.
Save money and move your own boxes. Many people only use the movers for their heavy furniture. You can move a whole lot of boxes in the average automobile and save yourself a whole lot of money.
Stock the fridge. Before moving day, make sure the refrigerator in your new home is stocked with food and beverages. Once everything is moved in, sit down and enjoy a meal. (This is where you'll be glad you brought your pots and dishes ahead of time.)
The more days you can spread out all of the packing and moving over the less stressful any one day will be. If you'd like any information on any of our Brunswick Forest resales just give Jayne Anderson a call at your convenience at 910 279 4001 or toll free 800 450-3684.