For those looking to purchase a home one of the first questions you'll need to answer is how much square footage do you need to live comfortably. Many people have no idea how much square footage they are presently living within. And still others have no idea how to figure that out.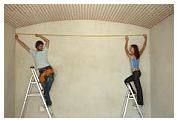 There are probably as many ways to measure square footage as there are people measuring. "House area" means different things to different people it seems. Some use gadgets that are intended to do the calculations for them. Some people measure the outside of the house while others insist on measuring only the inside. There seems to be no industry standard like the ones architects use.
It comes as no surprise that homeowners, builders, and agents alike want to show the largest number they possibly can when it comes to square footage. This might account for why two different agents get two different measurements when subsequently measuring the same house. Because we don't know the basis for how someone actually measured the house it's difficult to compare one house to another.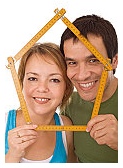 Your county auditor or assessor calculates the size of every house for tax purposes and therefore measures all houses the same way. Although their measurements aren't always a true reflection of the size of the house, they use the same protocol, so it's easier to compare one house to another. The downside to this method is that county records show only the gross areas contained within the perimeter of the foundation, but that doesn't accurately define the "livable" space within.
If you want to work with a Realtor that takes the guesswork out of square footage, give Mary Ann Bechtel Real Estate a call at (910) 579-2600. We are currently promoting Seawatch real estate located in the Bolivia, North Carolina area. Whether you're looking for built homes or residential building lots, you'll love the man Seawatch real estate listings we have to show you, just give Jayne Anderson a call at your convenience at 910 279 4001 or toll free 800 450-3684.