Golf Course Homes for sale in Sea Trail Plantation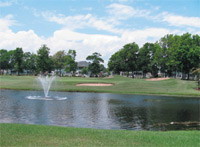 Sea Trail Plantation in Sunset Beach, North Carolina, can be likened to a favorite eatery. Even as you take that last bite and push back from the table, you're wondering how soon you will be able to return for more.
Are We There Yet?
Mike and Judy Hargreaves first stayed at Sea Trail in 2000.
"We would often drive by the golf course. It was so pretty," Judy explained.
The couple from upstate New York purchased property at Sea Trail Plantation in 2006, and today they are counting the days until they move to their town home and transition into full-time residents. Mike is a retired junior high principal and Judy continues to work as a high school guidance counselor.
"Every vacation we have, we're down there. He (Mike) would prefer we were down there all the time," Judy added.
Variety is the Spice
No matter your hobby, interest or housing preference, Sea Trail really does have something for everyone. The community offers single-family homes, condos, golf villas, maintenance-free-living options, town homes and rental opportunities.
Sea Trail also offers three distinctly different golf courses designed by Rees Jones, Dan Maples and Willard Byrd. The courses have earned accolades from Golfweek magazine, including being named one of "America's Best Residential Courses of Distinction" in 2003, 2004 and 2005 and a "Resort Course of Distinction" in 2005.
But there is plenty to do besides spending a perfect day on the links. The community includes restaurants, private and public clubhouses, swim and fitness centers, pools, saunas, tennis courts, fitness classes, biking and walking trails. Of course, if you are ready to feel the sand between your toes, one of the best beaches in North Carolina – Sunset Beach – is right down the road.
"That's one of the things we liked so much about the area," said Judy. "A lot of people are from other places, so you don't feel out of place."
Mike and Judy are looking forward to living in paradise full time. Until then, frequent trips – and the community newsletter – will have to suffice.
"We do get the newsletter, and we talk about what we will do when we are down there," Judy laughed.