Golf Course Homes for sale in Ocean Ridge, Ocean Isle Beach, NC
Ocean Ridge Plantation® Takes Coastal Living to a New Level
For Jerry and Margaret Dinda, it was love at first sight.
"We went up and down the coast – from Albemarle Sound to Myrtle Beach – looking for that one place that was going to satisfy our desires for a retirement community," said Jerry. "When we drove in the gate at Ocean Ridge Plantation®, we thought, 'This is the place.'"
Eleven years later, the couple from Houston still can't believe their luck.
"We love it. There's no question about it," Jerry mused.
What's not to love? This 3,000-acre community offers world-class amenities, an enviable location and easy access to one of North Carolina's most beautiful beaches. And that's just for starters.
PARADISE FOUND
Realtor Mary Ann Bechtel worked with Jerry and Margaret to make their dream of living in Ocean Ridge Plantation® come true.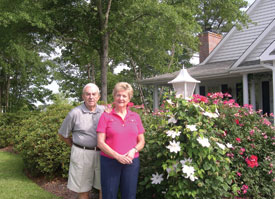 "It's a beautiful neighborhood," said Bechtel, owner of Mary Ann Bechtel Real Estate. "It's landscaped well, with nice topography and beautiful trees and flowers. It has a good feel when you drive in."
Richard and Adele Treible are another Ocean Ridge Plantation® success story. Originally from Denville, N.J., the couple began searching for the perfect retirement spot years before they were ready to move.
"We came to Ocean Ridge® and fell in love," said Adele. "The grounds are absolutely gorgeous. The flowers; the trees. It's like paradise."
Richard and Adele have been active residents here since 1998 and have made many lifelong friendships along the way.
"We love the people here," she said.
STAY IN: GO OUT
What's resort living without golf? Four nationally ranked golf courses are among the hallmarks of Ocean Ridge Plantation®. Tiger's Eye®, Panther's Run®, Lion's Paw® and Leopard's Chase® – with a fifth, Jaguar's Lair®, currently under construction – challenge the most avid golfer.
"Each of the courses is unique in its own way," Jerry pointed out. "It's essentially like you are playing the course for the first time every time you play."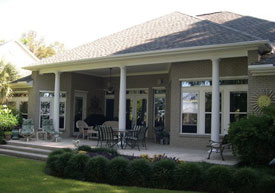 Ocean Ridge Plantation® goes beyond golf, with plenty of amenities to keep residents busy, or, if they choose, relaxed. Community features include indoor and outdoor pools, an oceanfront clubhouse, a four-acre fishing lake, fitness facilities, tennis, clubs and activities, a 200-acre nature preserve and miles of walking and biking trails.
"There is enough going on that you can do as much or as little as you want and still enjoy a grand lifestyle," Jerry commented.
However, should the outside world beckon, Ocean Ridge Plantation® is perfectly situated between two unique locations. The historic port city of Wilmington is 45 minutes to the north, and the entertainment capital of the East Coast, Myrtle Beach, is a 25-minute drive to the south.
"You have the culture of Wilmington and the fun and excitement of Myrtle Beach close by," Bechtel noted.
Residents also have convenient access to restaurants, shopping, healthcare services and three airports – New Hanover International, Myrtle Beach International and Ocean Isle Municipal Airport.
SUNSET BEACH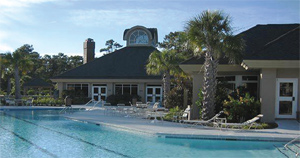 "Our beaches are absolutely gorgeous," Adele commented. "In the summer, the water is warm and the area is family oriented." Sunset Beach is the smallest and quietest of North Carolina's Brunswick Islands. Many animals and birds also call this area home, including the endangered loggerhead sea turtle and the wood stork. It's easy to see why Duke University ranked Sunset Beach "North Carolina's Number One Barrier Island."
The sand and the surf are minutes from Ocean Ridge Plantation®, where residents enjoy exclusive access to the three-story, oceanfront beach club that offers everything you need for a perfect day at the beach, including showers, a kitchenette, changing rooms and oceanfront decks with rocking chairs. Adele mentioned that it's not unusual to find the bridge club here; they pack their lunches and sit on the deck playing cards and enjoying the sunshine.
AWARDS ABOUND
It's getting increasingly difficult for Ocean Ridge Plantation® to remain a best-kept secret. The community and golf courses have been highly ranked in some of the country's best-known publications, including Where to Retire magazine, Living Southern Style Magazine, Golf Digest, Golf Travel, Golf for Women and Golf Magazine.
"The lifestyle is what everybody should be looking for," said Jerry. "It's peaceful. It's harmonious. It's a feeling of safety and security with neighbors who are like family. You pinch yourself from time to time."
By Courtney McLaughlin